Lord Pandurang
---
Apadam apahartaram dataram sarva sampadam |
lokabhiramam shriramam bhuyao bhuyao namamyaham ||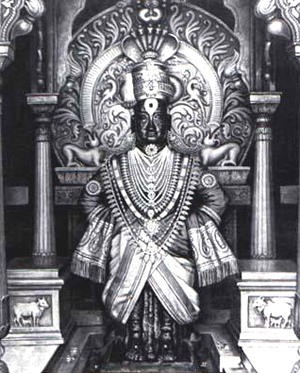 A man named Narayana Bhatta living on the banks of river Tungabhadra. He was very poor and was unable to run his family out of his income. He has borrowed cash from many people. Thinking that one day life will become better and I will return the borrowed money. But day by day his position went deteriorating. So that he could not continue to live in that village. He planned to leave the place without notice to any body. Accordingly he left the place at one night and started for Pandharpur.
He reached Pandharpur and took bath at Chandrabhaga river and went far the darshana of Lord Vitthala . He begged that " oh almighty I have just bored from poorness to the life, You the grate heart please finish either the poorness or my life till then I will not leave the place, I will live here only doing your worship " . After some days on one night he has a dream in which Lord Vitthala gave darshana to him and told that " You go to Murugod. I live there only in the name of Chidambara and he will help you ". And Lord Vitthala disappeared. In the morning when he remembered the dream, he thought that when actual almighty God Vithala himself do nothing what a man in the name of Chidambara could do.How can he help me .Thinking like wise he has not left Pandharpur and lived there only. Again on the next day Lord Vithala gave darshana to him in a dream and told that " you should not live here you must go to Murugod as per my instructions. At the same time Lord Vithala told in the dream of the Archaka (Poojari) also that you should not allow to enter Narayana Bhatta in to temple ". Next day with remembering the dream he again went for the darshana of Lord Vithala where he is not permitted by the poojari or not allowed him for entering. The poojari told about the dream and convinced him to go to Murugod and not to live here in Pandharpur .
So Narayan Bhatta started for Murugod and after some days he reached Murugod. At a place far from dias of SHRI CHIDAMBAR MAHASWAMIJI he stoodup. After some time SHRI CHIDAMBAR MAHASWAMIJI seen towords him. With a smiling face asked him that "why are you reached here to a man leaving the actual God lord Vithala. Narayana Bhatta surprised and prostrated in front of him and said I am extremely sorry its my misunderstanding please forgive me. Then SHRI CHIDAMBAR MAHASWAMIJI asked him to go and finish bath and meal and then come to me. Also told one of the the disciple to help him. narayan Bhatta had done accordingly and returned to Shri Chidambar Mahaswamiji. Shri Chidambar Mahaswamiji told him to live for some days here only till I say to return to your home.
After some days SHRI CHIDAMBAR MAHASWAMIJI told Narayan bhatta that you go to Diwan Poornaiyya at Shrirangapattana and tell him that I have diverted you to him. And at night SHRI CHIDAMBAR MAHASWAMIJI gave darshana to Poornaih of Shrirangapattana in the dream and told that the bad days are due(coming) for you in the coming years and to escape prom those days you have to satisfy the Brahmin with donations who will come to you as per my advice .
After some days Narayana Bhatta reached Poornaih and told that SHRI CHIDAMBAR MAHASWAMIJI has sent me to you. Poornaiah was waiting allready for him. He was diwan of area means rich person. At the same time Purnaih has a verymuch belief in Shri Chidambar Mahaswamiji. He invited Narayana Bhatta with respect and requested him to live for some days at him. Then while returning he gave him 5000 gold coins and clothing etc. Also Purnaih arraged servents with him up to his village. After that Narayana Bhatta returned the money from whom he has borrowed. He lived happily and arranged the marriage his son also .
Then Narayana Bhatta came to SHRI CHIDAMBAR MAHASWAMIJI and told all about. Shri Chidambar Mahaswamiji told him to live in a simple manner and style and blessed him. With the blessings he returned to his village back and lived happily in a simple manner with enchanting the name of SHRI CHIDAMBAR MAHASWAMIJI