Blessings to a widow
---
Nyasavahanam chaiva nama nyargal kilakam |
hridayam cha dalam chaiva dhyanam kavach mevach ||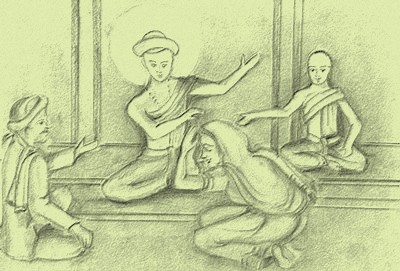 During the days at Guruvanapur i.e. Gurlhosur, every body was very happy because of Shri. Chidambara Mahaswamiji's stay. Once as usual Shri. Chidambar Mahaswamiji was busy in teaching disciples. Shri. Chidambara Mahaswamiji was telling about God who helps always the good people.
One day Shri. Chidambar Mahaswamiji finshed pravachana. The devotees were coming towards the dais to get blessings of Shri. Chidambar Mahaswamiji one by one. Every body was happy with the blessings. A lady with two children in the queue as usual had darshan and blessings. Shri. Chidambara Mahaswamiji said, "you will have a son" i.e. putravatibhava. Then the lady said, "Oh, Swamiji how is it possible? I am sorry to say, but my husband has died some months ago in an accident." Shri. Chidambar Mahaswamiji said, "No, your husband did not die in the accident. It was some body else. You are not a widow. You apply red kumkum on your forehead now itself. Within one year your husband will return". The lady immediately put the kumkum on her forehead and prostrated once again to Shri. Chidambar Mahaswamiji her tears droped on earth.
Since then the faith of the lady was increasing day by day. With the faith she used to attend lectures regularly. On a fine day, a person having long moustaches and beard with Ganges water pot on his shoulder arrived to Shri. Chidambar Mahaswamiji and prostrated. Shri. Chidambar Mahaswamiji blessed him and called the lady and asked to recognize the person arrived. Both husband and wife recognized each other. As they were from Telangana (At present, Andhra Pradesh), they started to praise Shri. Chidambar Mahaswamiji in Telugu language. Both of them prostrated there only to Shri. Chidambar Mahaswamiji. The lady had tears of happiness as she got her husband back. Shri Mahaswamiji blessed them and the family went to their native place.
Shri Chidambar Mahaswamiji's words means the words of lord Shiva itself which do come true always