Lord Vishnu for His devotees
---
Shivasya hrudaye vishnuhu vishnushch hrudaye shivah |
sarvam vishnumayam jagat sarvam shivamayam ||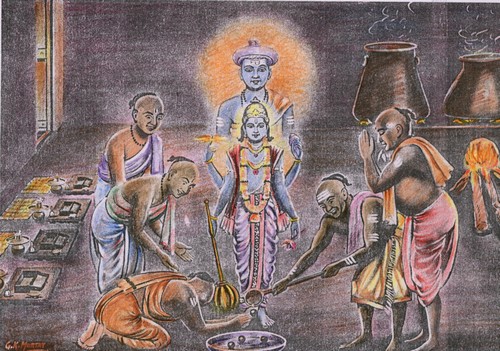 Once at Gurlhosur Shri Chidambar Mahaswamiji was discussing with his disciples. There some four very orthodox vaishnavas came to see Shri Chidambar Mahaswamiji. They all are very much believed in LORD VISHNU and only LORD VISHNU's greatness. No body is greater than Lord Vishnu like they believe.shri Chidambar Mahaswamiji know that they are very much devotional. They came and bowed in front of Shri Chidambar Mahaswamiji as if they don't want to do it .Shri Chidambar Mahaswamiji understood their difficulty and asked today being the day of fast (Ekadashi) you might have strict fast, so you come tomorrow after finishing dwadashi.The four vaishnavas repplied that we are strict vaishnavas we do not eat with the Shaivas. Shri Chidambar Mahaswamiji told them ok no problem we will give sheeda (food preperation items) ie raw material of food grains to cook to you. Tumorrow you first do your pooja and naivedyam etc then convay us so that we will take food (meal) after you.
Accordingly Shri Chidambar Mahaswamiji called one of the disciple and told to arrange like wise as per the desire of these four persons. Next day on dwadashi ie the day on which the fast ends .The cook of the vaishnava was cooking the food .The four vaishnava devotees came after bath and started to perform the pooja . All the persons surprised to see that the SHALIGRAMS ie the form of vishnu puts for pooja ( perticularly by vaishnavas)are not available with other statues, idols of the gods .They tried to find them but nowhere they are available. During the time one of the disciple of Shri Chidambar Mahaswamiji came there and asked that whether your pooja is finished ?. And these people said no not yet , like wise after some time once again the disciple came there and asked about pooja completion and these people said no not yet mean while the time was running and it was 3.30 o clock noon, and the disciple of Shri Chidambar Mahaswamiji came once again and asked them about pooja and told that all others including Shri Chidambar Mahaswamiji has to take food yet and all are waiting. What is the problem? All are unhappily told that our gods have left us and we do not know where they are and with out them how we can perform pooja and naivedya.
All of them came to Shri Chidambar Mahaswamiji and told the happenings and aslo told that without them we will not take food. Shri Chidambar Mahaswamiji told that he will give other shaligrams with him and asked to perform pooja and take the meals. But they have not agreed .Then Shri Chidambar Mahaswamiji told that your gods had hungry and they can not wait till for your naivedyam.The words of Shri Chidambar Mahaswamiji was not understood by them. At the same time the cook of Shri Chidambar Mahaswamiji came there and told that Sir I was moving the ladle in the sambar (vegetable) and these shaligrams came with flowing upward and showed the shaligrams to all there .
All the vaishnavas are surprised to see them as the shaligrams are belongs to them only and saw towords Shri Chidambar Mahaswamiji .To their surprise they saw four handed LORD VISHNU in place of Shri Chidambar Mahaswamiji. Shri Chidambar Mahaswamiji is kind enough to see the devotion (bhakti) of all four in Lord Vishnu and so he gave dashana in the form of LORD VISHNU to them. All the four persons prostrated in front of Shri Chidambar Mahaswamiji and requested to excuse them as they have differentiated LORD SHIVA and LORD VISHNU .Shri Chidambar Mahaswamiji excused them and all of them took meals together with. Next day when all of them arrived for the darshana of shri chidambar Mahaswamiji their mind was clear and they prostrated with all devotions . Shri Chidambar Mahaswamiji told them that Hari and Hara are not different both are same one worship other. the biggest sin on earth in the spiritual field is to differentiate between Lord Shiva and Lord Vishnu. Then with taking the blessings of Shri Chidambar Mahaswamiji they went to their village with chanting the name of Shri Chidambar Mahaswamiji along with Shrihari Shrihari.
Shri Chidambar Mahaswamiji use to give darshan as per the diety in the mind of the devotee. Also use to tell god is one, only the names are different and never try to differentiate them and also never say he is big he is small