Igoistic Mr. Haridas
---
satyapi sukrute karmani durnitihi svantare shriyam harati |
snehe anupbhunktepi dipashikha dalati vatapi ||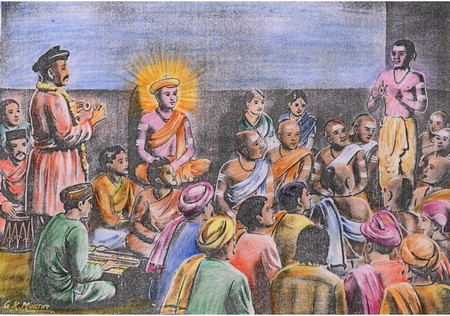 Once a great spiritual lecturer, pravachanakar named Shri Haridas came to Guruvanapura ie gurl hosur village. He also visited Shri Chidambar Maha Swamiji and sat in the meeting. Everybody know about him as he is a famous spiritual lecturer in that area. So one of the desciple asked him to give a pravachana or keertana to Haridas at the holy place Gurlhosur. Haridas being egoistic said "my rate of pravachana is 100 gold coins ask your Shri Chidambar Maha Swamiji whether he is ready for an amount ". The people gathered there requested Haridas once again but he has not agreed with out money.Shri Chidambar Maha Swamiji was listening all this.
Shri Chidambar Maha Swamiji with a smile called a person named Timma and told that. I am in a mood to listen the pravachana and you may deliver the same for all of us. Timma told " sir why are you joking , I am not at all a learned person, I put thumb impression where ever required, also I am mentally handicapped since birth. " Shri Chidambar Maha Swamiji was very much humble to see every one and here also Shri Chidambar Maha Swamiji felt very sorry to see Timma and so Shri Chidambar Maha Swamiji called Timma to him and asked him to open his mouth and put a part of ash in it and told that do not worry you may start the lecture or pravachana.
Timma prostrated in the lotus feet of Shri Chidambar Maha Swamiji and started to deliver the pravachana. The pravachana was so sweet and beautiful with all the gramatical as well as friezes, verbs , adverbs etc etc . Everybody surprised and hours together they sat listening the lecture. Particularly Haridasa surprised to hear such a great pravachana. After the pravachana all most every body sems to be in a Samadhi or salvation mood including Haridas After the speech Haridasa got up and prostrated in the feet of Shri Chidambar Maha Swamiji and told sorry and requested to excuse. As I have not understood Shri Chidambar Maha Swamiji I have gone towards the money so kindly with great heart excuse me. Shri Chidambar Maha Swamiji excused him and blessed with words of simplicity. Here since then an Ordinery Timma has become famous pravachanakara Timmappa Gosavi. With blessings of Shri Chidambar Maha Swamiji.Timmappa Gosavi use to deliver the pravachanas in various parts of the state in the name of Shri Chidambar Maha Swamiji.
the next generation of Timma is living now at Kadadalli village near Naragund Petha, in the name of Shri Govindarao Karikatti.