Mr. Desai from village Bhandiwad
---
shrutismrutipurananamalayam karunalayam |
namami bhagwatpadshankaram lokashankaram ||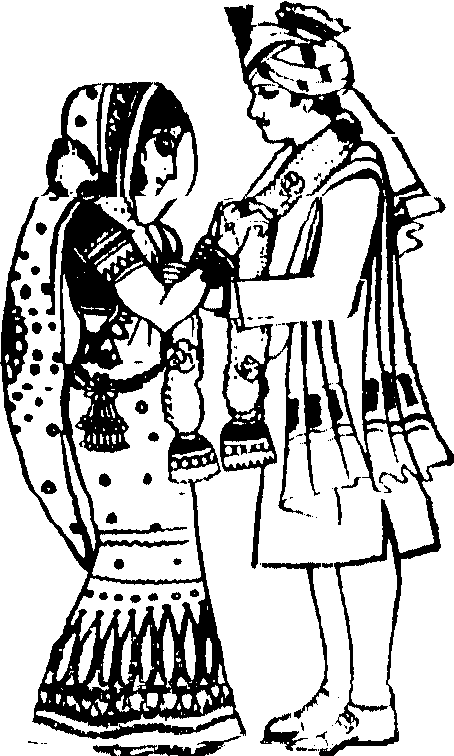 Shri. Chidambara Mahaswamiji lived at Deulgaon for one year. Then went to Kundagol, near Hubli. There is a village named Bhandiwaad in Hubli district. Desai of Bhandiwad was very rich but had no issues sohe came for darshana of Shri. Chidambara ahaswamiji and told about not having a child and requested for blessings. Shri. Chidambara Mahaswamiji blessed him with two shriphalas (coconuts) and said, " First you will have a girl child and then a boy." After an year, he had a beautiful girl child.
The days and years passed. Desai had another child, male child as per Shri Chidambar mahaswamiji's blessings. Thefemale child grew up and reached at a marriageable age. Desai is started to think of her marriage. During the same period one Mr Rama a horoscope reader from Chattaraki village in Bijapur district a devotee of Shri. Chidambara Mahaswamiji came for darshana to Kundagol keeping in mind to make a request to Shri. Chidambara Mahaswamiji about arranging his marriage. As he was poor, nobody was ready to give him theirdaughter. Shri. Chidambara Mahaswamiji recognized the matter in his mind. When the turn for darshana of Rama came Shri Chidambar Mahaswamiji asked him that "Do you wish to marry?" With a shy face Ram said, "Yes, but as I have no money, who will give me a girl? Shri. Chidambara Mahaswamiji told him to go to the house of Bhendiwad Desai and tell him the message to arrange the marriage of his daughter with Ram. Accordingly, Ram went to Bhendiwad and conveyed the massage of Shri. Chidambara Mahaswamiji. Desai's wife said, "Who is Mahaswami to say like this? It is our personal matter and Mahaswami should not interfere". Then Ram came to Shri. Chidambara Mahaswamiji and told the story. Shri. Chidambara Mahaswamiji told to Ram not to worry and asked him to go to Bhendiwad and live there only. Ram again reached Bhendiwad and lived there only, with faith in Shri. Chidambara Mahaswamiji's words.
Desai thought Mahaswami did not know how reach he was. Therefore he might have sent such a poor person. Then he found a rich groom for his daughter and fixed the marriage. When the time of marriage reached the daughter fell sick. Desai brought many good doctors, mantrikas but nothing was fruitful. Then Desai asked a horoscope reader about it. He told that it was due to Mahaswami only. If he wanted his daughter live longer, he must honour Mahasawmiji's words. both of them prayed from there only to Shri Chidambar mahaswamji in mind. Desai's wife was very cunning. She said, "Yes. We do agree but as our daughter is very weak we will think after one year." The daughter recovered immediately. And also she began to wander here and there as usual.
After some months, the Desais thought that nothing would happen. They found another rich groom and decieded the marriage, ignoring the assurance given to Shri chidambar mahaswamiji. Once again at the time of wedding arrived and the bride collapsed on the ground of the dais itself. Every thing was disturbed. The groom was furious over Desai, thinking that he has arranged the marriage with his ill daughter, and so he thought not marry and left the function hall.
Desai was distarbed much. He contacted the doctors etc but nothing was fruitful. Again Desai asked the horoscope reader of his family.The Brahmins told Desai that it was all due to the anger of Shri. Chidambara Mahaswamiji. They asked Desai to request Ram to marry his daughter as per Shri. Chidambara Mahaswamiji's wish. Then Desai has no way left and went towards Ram who was living at Bhandiwad only and requested him to accept his daughter. At the same time Shri. Chidambar Mahaswamiji gave darshana to Ram and told to accept the proposal. Here the daughter woke up with cheers and Desai happily did kanyadana(marriage) and the new couple went for darshana of Shri. Chidambara Mahaswamiji.
After reaching Kundagol, they prostrated Shri. Chidambara Mahaswamiji. Then Shri. Chidambara Mahaswamiji sent a massage to Desai of Bhendiwad to come over Kundagol. After Desai's arrival, Mahaswami arranged a marriage ceremony of Ram. It was like a rich person's wedding ceremony. On watching such a grand function, Desai shied himself. Prostrated in front of Mahaswami and said, " I am very sorry for all mistakes I have committed". Mahaswami pardoned him and told that no body is rich no body is poor in the eyes of god, never be egoistic about richness which is not permanent. Always one should keep up the words given to any body. With the blessings he returned to Bhendiwad and live his future life happily.