Nasik, on the banks of river Godavari
---
Purne manasi sampurna jagat sarvam sudhadravaihi |
upanadgudhapadasya yatha charmavrutaiv bhuhu ||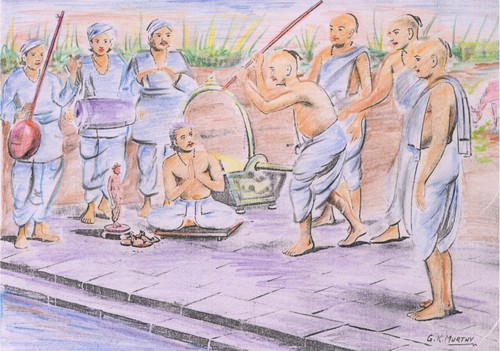 The great disciple Rajaram was blessed by Shri. Chidambara Mahaswamiji. Since then it is understood that he was a great saint Tukaram ( the greatest disciple of Panduranga ) in his previous birth. He confirmed that Shri. Chidambara Mahaswamiji himself is Shrikrishna and he completely devoted to him. With request, he took the actual leather chappals that Shri. Chidambara Mahaswamiji wore and decided to worship them. He erected a statue of Shri. Chidambara Mahaswamiji in his house and set on tour within the country to cancas the name of shri Chidambar Mahaswamiji for the welfare of the people.
Once during the tour he was in Nashik on the banks of river Godavari. He bathed in Ram kunda and stared to worship the leather chappals of his guru Shri. Chidambara Mahaswamiji. The devotees of Lord Trimbakeshwar in Nashik and the other people who saw that, had angered to see the sacred Tulsi plant and holy water of river Godavari being offered on the leather chappal, that too in the holy town of Lord Trimbakeshwar Nasik. The angered persons enquired Rajaram about it. Rajaram told them, "These are the actual PADUKAS of my guru. I will worship them only". On hearing this, the persons started to beat him. Rajaram said, "I believe only in these only as god. If you are angered, and any doubt about this you go to your house first and see your idols of gods in your house. And then come back. I am here only. Then you may do whatever you want."
Some of the gathered people went to their house and saw the gods in their houses. All their metallic idols were turned into leather idols. They all frightened and rushed to Rajaram and prostrated in front of him and requested to make the gods in their original form. Rajaram requested the PADUKAS accordingly and the gods in each ones' houses became as usual which the people confirmed. Then the devotees and people enquired about the great Shri Chidambar Mahaswamiji. many pople rushed to Muragod immidiatly for the darshana of actual living god
The padukas of Shri. Chidambara Mahaswamiji are still at Kengeri. They are made up of 'krishnajina' i.e. made from the leather of deer. They are worshipped daily with 'Kunkumarchana' and 'bilva-dala' till date.