Creation of village Gurl-Hosur
---
jale vishnuhu sthale vishnurvushnuhu parvatmastake |
jwalamalakule vishnuhu sarvam vishnumayam jagat ||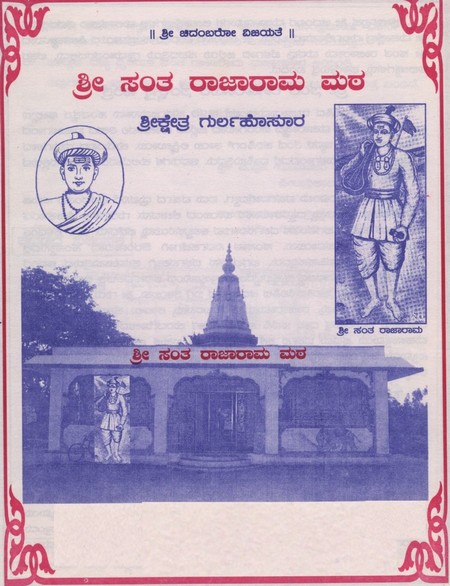 Once Shri. Chidambara Mahaswamiji decided to go for darshana of Shri Runuka Yallama in Saudatti. Accordingly he went to Saudatti. Many people and the Kings of that area also accompanied. Shri. Chidambara Mahaswamiji performed mahapooja of Shri Renuka devi. At that time Shri. Chidambara Mahaswamiji said, "This area is very good. Malaprabha river is also auspicious". Mahaswamiji liked the area is very much. After hearing this, the King of the area planned to build a village there for the sake of Mahaswamiji. The king also told his plan of building a town in the name of Shri Chidambar mahaswamiji as he has liked the area much. Shri Chidambar Mahaswamiji told him as why it is necessary. But the king and the other disciples were not agreeing. Shri Chidambar Mahaswamiji told that your plan is appeciable but this area has very little life in long future it will dip in to the water and why you are wasting the money. Every body surprised to hear as there are no signs of diping the area with water but they thought that as Shri Chidambar Mahaswamiji is telling like this something must be there. Even then the king said it may dip with water when the time will come but till then we are requesting to permit to build a town. On the several requests of the king and the disciples Mahaswami has to agree. Then Shri. Chidambara Mahaswamiji went to Murugod (Amar Kalyan).
Here the King along with Shri. Chidambara Mahaswamiji's son Diwakar, started to build a new village. As the King himself was interested in the work, the village was built very quickly. One day the King requested Shri. Chidambara Mahaswamiji to inaugurate the village. Accordingly Shri. Chidambara Mahaswamiji agreed upon. The village was named as "Guruvanapur" means Guru's village. At present it is known as GURLHOSUR. The village has become a education center within a short time because all the teachings of hinduism are being taught there. There are about 700 students of vedas, about 60 Rampathis, 350 Shastra pathis, Karma-kand, Kala, Upasana, Trivedis, Dwivedis, Ekapathis etc. This has happened because actually Shri. Chidambara Mahaswamiji was teaching there at along with others teachers. Since then the village is known to every body with respect as an educatn centre for humanity or hinduism
It is surprising to note that Shri Chidambar mahaswamiji has told long before ie before the formation of village Gurlhosur that it will come under water. Later on the place came under back water of Malaprabha dam. Also it is notable that at Gurlhosur Shri Chidambar Mahaswamiji homself work as a teacher. The incarnation of Lord Shiva himself not hesitated to work as a teacher.