SHIVALINGAVATAR (Incarnation in the form of a symbol of Lord Shiv)
---
Tasya devadi devasya murtyashtakamidam jagat |
bhumya bhogni marut vyom kshetra dnyan nishakarah ||
adhishtitha maheshasya sarvadyabhishcha mutibhihi |
characharatmakam vishwam dhatte vishwambharatmane ||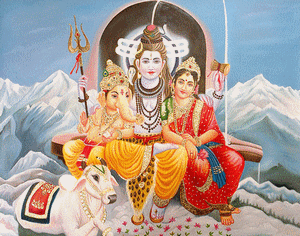 Shri Chidambar Mahaswamiji has performed thread ceremony of Chi . Kashinath (Sau Savitrimata 's son) along with sau laxmimata's daughter Kum Laxmi 's marriage at Murugod itself . Then during shake 1735 Shri Chidambar Mahaswamiji started for yatra along with family members . Latter on in the year shake 1737Shri Chidambar Mahaswamiji convinced all the family members ie told many things like , Prabhakar to hand over his son to Shri Diwakar who has not having children . Advised sau Yamunabai wife of Shri Diwakar to shift from Gurlhosur to Badali along with all the things they have got.
Shri chidambar mahaswamiji helped in many forms to the devotees , disciples , plants and animals even in the name of sanchara in different areas. It is our tradition in our Indian culture why like these people (avatara purushas ) go for sanchara. i.e to help in all the forms to the needy.
Sri Chidambar Mahaswamiji is now at the age of fifty seven and he is thinking that almost many things have been covered and it is the time to end the avatar. Also he thought to disappear suddenly . Bur atlast decided to conclude his "avatara" as per brahmin tradition. Yama (bramha maha kaal) arrived near the village Murgod and lived in a "siddhan gavi" " the cave of Siddha" which is situated at in the hills of Murgod and Sogal. The Yama was in the form of sanyasi lived with waiting the order. When the people of the area enquired about him the use to tell that he is disciple of Sri Chidambar Mahaswamiji . As Sri Chidambar Mahaswamiji has promised him for the darshana I am waiting .
Here at home Sri Chidambar Mahaswamiji called all the relatives, disciples and during the pravachana on that day he use to say "the days to come are very bad, be careful, be brave and maintian dharma aacharna all the time, donate for the good doings , the era of abrahmanya do come. Always be happy in what you have got. God will come and protect you as well as destiny by destroying evil ones. Till then the naam (name of god ) only help you and come for the rescue. Always help the poor and brahmins and respect gomata (cow) . Enchant the name of god which is the only best remedy to all the travellers of this matter world . I declare many little things have been performed by me with the help of you people and the blessings of God. Now the time has arrived to conclude .
The people sitting were much disturbed, disappointed and weeping with a thinking why Sri Chidambar Mahaswamiji was telling such words. Somebody even asked Sri Chidambar Mahaswamiji . Sri Chidambar Mahaswamiji told do not worry I will be always with you do not think as you are alone . I will be with you who are in Dharmaacharna, who believe Vedas and who are in satvik behavior. wI will be always there who do not differentiate between Hari and Hara. Do not accept others woman and wealth. I am there there who are in truth , who respect ,brahmins and cows. I'm there at abhangas of Rajarama. I'm there at stotras of shivashastriji. Iím there at your love. Iím there even every thing is finished in universe.
On Margashirsha krishna chaturthi Sri Chidambar Mahaswamiji got up early in the morning and done every day work like agnihotra , meditation etc and spoke the only sentence "Aaham Brahmasmi" and slowly the life started to leave the body. After some time when his first son Divakar came inside . By knowingthe situation he was very much disturbed . He was not ready to leave his father and every where he made the situation tense. Like a small child beating his father in angry he was beating with . As Diwakar was so much disturbed that he ran to beat Shivashastriji who arrived there to convince Diwakar. After that Shivashashatriji went to words the body of Sri Chidambar Mahaswamiji with closed palms. Shri Shivashastri told that Sri Chidambar Mahaswamiji it is being Dakshanayna as per other avatars it is not proper to leave the earth on these days for the sake of our tradition . I know that all these things are not applicable to you but for the sake of people and their words of the world and to respect Vedas , Upanishads, Shastras it is not proper time to leave. Then Sri Chidambar Mahaswamiji got up . Also asked Shri Divakar as " what has happened why you all sat like this , go and arrange for the Prasada . It is lunch timeand people might be hungry. Do not worry I will not go anywhere out of Kengeri ".
Then Shri Divakar went to fallow the orders of Sri Chidambar Mahaswamiji . Every body were thinking but could not understood what was going on in the mind of Sri Chidambar Mahaswamiji. After four days Sri Chidambar Mahaswamiji called shri Divakar and told that Oh my son during the bad day ( the day , four day back) I blessed with Martanda Bhairava and Shri Panduranga. Now I am better . So I have to go to Devar Hipparge Martanda Bhairava and Panduranga of Pandharpur for the darshana. I think it is better insted of me if you go to both the places and perform puja. Shri diwakar Dixit agreed upon and accordingly started for the yatra to Devar Hippargi and Pandharpur . Here on pusha shudha chaturthi yuvnam savanthsar Sri Chidambar Mahaswamiji awake early in the morning and then preformed his daily routine, puja of go-brahmin, panch agni and called all the relatives, friends and disciples and told that "You may ask what ever you want". Today I am completing my " aavatara ".But I do live here only for all you good people. Do not worry, do not get troubled your self I am always with you. Then Sri Chidambar Mahaswamiji sat on a "darbhaasana".Sri Chidambar Mahaswamiji started pranayama then stopped prana aapana by kumbhaka up to the time of muhurta . Then Sri Chidambar Mahaswamiji pronounced as "Aaham Brahmaasm" and left the earth.
Everything has become silent , everybody was in sorry mood nobody could understand what to do. Some were slowly crying some were enchanting the name, some were disturbed much . Then with a bhajana, mantra, with all perfumes , flowers as per Vedic brahmin tradition , ahit agni was performed by Shri Shankar Dikshit .
Here at pandharpur Shri Divakar Dikshit was just leaving out of the river Chandrabhaga after the dip . To his surprise Sri Chidambar Mahaswamiji gave darshana on the banks of the river . Sri Chidambar Mahaswamiji also accompanied him to the darshana of Panduranga . After the darshana of Panduranga vithala , he got phal- antra-ashata and he couldn't see Sri Chidambar Mahaswamiji allof a sudden . Who disappeared and saw lord Vithala himself giving phal-mantra -ashata with a garland of Tulsi. Shri Divakar Dixit was confused with the happenings as well as between Lord Vithala and Sri Chidambar Mahaswamiji. Shri Diwakar Dixit was thinking seriously and he thought as ' this is not a good thing '. Then with a bad thinking in his mind he started immediately towards Kengeri Murgod.