Kailas (Heaven)
---
Sarvottamo mahamantrah shiv purva Chidambarah |
mantraraj iti khyatah smarant sarvasiddhidaha ||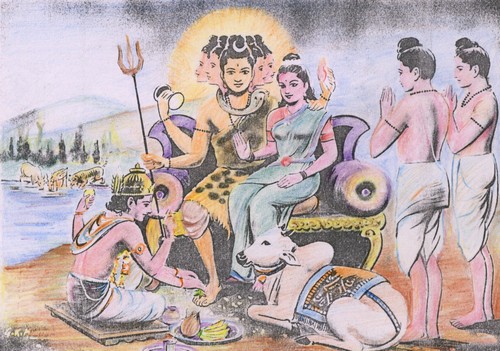 Two persons named Samb and Sham once came for the darshan of Shri Chidambar Mahaswamiji. Shri Chidambar Mahaswamiji received them with respect and offered the seat. After initial talks when Shri Chidambar Mahaswamiji enquired about the reason of arrival both of them said that they were at Himalayas and made a deep meditation but we could not got the darshana of Kailash. A Rishi there at Himalaya told us that, in south India at the village named Murugod where Lord Shankara is living now in the name of Shri Chidambar Mahaswamiji you may have there what you desire .
During the same time a man came there and prostrated in front Shri Chidambar Mahaswamiji and requested that I was in a plan to go to Himalayas since my childhood but I could not arrange for, and mean while I heard about you and came to request to help me in this regard. Shri Chidambar Mahaswamiji saw him kindly and told that I am a simple Brahmin how can I help you?. But do not worry god is great he will help you. Shri Chidambar Mahaswamiji called Shri Shiv Shastri one of the great disciples and told to get clean the sideby room with Gomaya ie cow dung and other holy things. When the room was ready , Shri Chidambar Mahaswamiji along with the old person, Samb and Sham entered the room . Shri Chidambar Mahaswamiji sat on a mrigajina ie on the skin of dear all others sat in front of him Shri Chidambar Mahaswamiji put his hand on the head of them one by one slowly. Soon they all went in to deep meditation. All of them are in the same deep meditation for seven days.
After seven days they came in jagruta-avastha ie out of meditation. Shri Chidambar Mahaswamiji told them to recall and say what they saw. They started to tell that "At early minutes we saw light every where then a big hill with seven colors with bright rays. The tree like Kalp vriksha, every where all animals wandering freely. There are many cows wandering . They saw golden lotus. Every thing was free. Near by that on a white quartz big crystal Lord Shankara was sitting with Parwatimaata. Around him many rishis are chanting vedas, other gods also are praising Lord Shiva. During the time Lord Vishnu came there and performed pooja of Lord shiva.
Then Lord Brahmadeva came and requested Lord Shiva that " on the earth the prabhava ie influence of Kali has dominated the truth and spiritual things, the devotees of the god are in trouble and facing many difficulties " Then Lord Shiva replied that I know and I will be there in the name of Chidambara to help the people. Any body who worship Chidambara will get what ever he want. During the Kaliyuga the names Chidambara or ShivChidambar are the easiest ways to pass the life." Then after some time all have came out of meditation. Then the old person alongwith both Samb and Sham told all about the rest of Kailash Darshana and prostrated in front of Shri Chidambar Mahaswamiji .