Request from Tirupati
---
Shrish shriya ghatikaya tvadupay bhave
prapye tvayi swayamupeyataya sfurantya |
nityashritay niravadyagunaytubhyam
syam kinkaro vrushgirish na jatu mahyam ||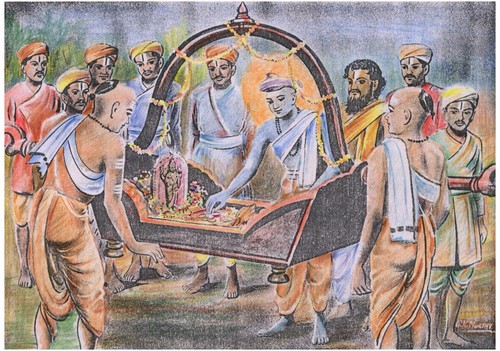 One day Shri. Chidambar Mahaswamiji was very happy since morning. He told family members and disciples to be ready with early bath and all types of fruits and flowers, particularly TULSI and with all articles for worship because Shri Vinkataramana is coming from Tirupati and we must go to receive him. Accordingly, everybody became ready and went near the main entrance of the village along with Shri. Chidambar Mahaswamiji.
After some time they all heard the voice "VENKAT RAMANA GOVINDA GOVINDA" and the voice was becoming loud and loud. The palanquin of Venkatramana arrived. With all respects worship was carried out. Then the palanquin came to Shri. Chidambara Mahaswamiji's house where the vedokta pooja was performed by Shri. Chidambar Mahaswamiji. The main poojari (one who worships regularly) of the palanquin gave a blank paper to Shri. Chidambar Mahaswamiji and said, "Lord Venkataramana in my dream gave this letter to me to handover it to you at Kundagol. In morning, when I woke up the letter was near the celebrity idol".
Shri. Chidambar Mahaswamiji told poojari to read the letter. But nothing was available to read. So poojari requested Mahaswamiji to read the letter. Mahaswamiji took the letter in his hand with a smile and respect. Immediately the golden letters were shining on that blank paper: "I have to pay interest of Rs.125,000 to Kubera (Lord of wealth). Please help me by giving that much of amount". Mahaswamiji smiled and said, "Narayana, Narayana you are the husband of Laxmi (Goddess of wealth), how I can help you? Are you joking with me? Any way, I request you only to help me in doing so".
Then the big festival like arrangements were made. i.e. mahanaivedya, brahmana bhojana, Vishnu sahasranama's sahasra patha, bhajana at night etc. After two days the palanquin started for return journey. Shri. Chidambar Mahaswamiji performed the shodashopachara pooja (worshipped with 16 rituals as per rules in vedas) with stavana and put a five rupees coin in palanquin under the cloth and prostrated to Lord Venkataramana.
The palanquin went to Tirumalagiri (hills of Tirumala,i.e. Tirupati). After reaching the palanquin to Tirupati, the main poojari took out the arrangements in the palanquin and also the five rupees coin. To his surprise, he saw there another coin five rupee coin. He took out one more coin and saw one more coin present, until it counted to Rs.125,000!