Horoscope
---
Divyamalayambardharam divyagandhanulepanam |
sarvashcharyamaym devam anantam vishwatomukham ||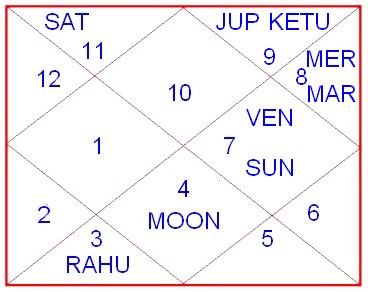 BAHUVA-DHANYANAM SANVAT : Birth in this Sanvatsar for the production of greater, larger quantity of grains so that, everybody will be happy .
KARTIK :To indicate there is no difference between Hari and Hara i.e. on Vaikuntha Chadurdashi at night the pooja of Lord Vishnu and at early morning pooja of Lord Shankara is performed . It is the only day on which both Hari and Hara are worshiped . SHASTI :It called as Nanda Tithi . To wish happiness to all in the world birth of Shri Chidambar Mahaswamiji.
ASTAKA (Six)To indicate six i.e. Shiksha, Kalpa ,Wyakarana,Chandas,Nirukta, Jyotish and six ritus , Shatkarmas, Shat Tantras.Shadamyaws, Shatyoga, Sadharma, Shadaishwaryas, Shadurmi, Sadguru will came true.
PUSHYA NAKSHTRA : The guru of all gods took birth on this Pushya Nakshatra which indicates Shri Chidambar Mahaswamiji is not only guru on earth but also guru in the haven.
BRAHMAYOGA : Those who gets birth during this time indicates inclination to words speritual things/
WANIJA KARMA : This karama or duty is helpful for study and grains.
MONDAY: It is a day of Lord Shankara Mahadeva( first day of week )indicates first amongst all gods . God of gods. Lord Mahadeva , cool and very cool.