Sadguru Mr.Katkar
---
akashat patitam toyam yatha gachchhati sagaram |
sarvadeva namaskarah keshavam pratigachchhati ||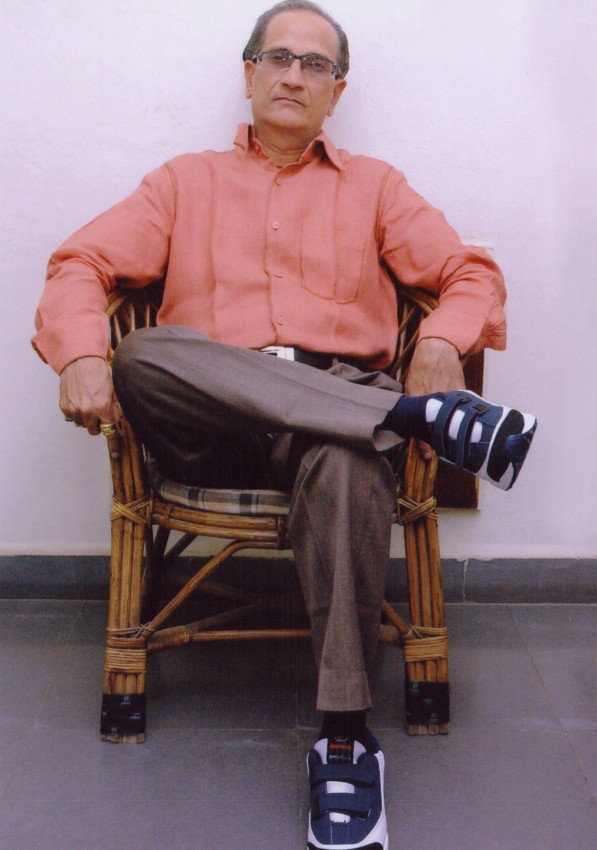 There are many disciples and devotees of Shri Chidamabar Mahaswamiji around the world and many are now existing in the various parts performing several activities as per will and wish of Shri Chidamabar Mahaswamiji . One of such great devotee who had achieved the status of sadguru with his work , purusharta , sacrifies ,murcy , behavior , knowledge ,devotion, for Shri Chidamabar Mahaswamiji since around 40 years known as Shri Shriniwas Shamrao Katkar living at Solapur.
Shri Shrinivas Shamarao Katkar born in the year1940. He did his M A in Philosophy . He served as a H O D in Philosophy at D A V collage , Solapur (retired in 2007 ). Shri Katkar got initiated in his young age in the Shreevidya-akhand-mahayog by two yogic legends , by His Holyness Shri Sadguru Shri Chandrasekharendra Saraswati the 68th pontiff of Kanchi Kamakoti the and Shri Sadguru Mahayogiraj pandit Shri Ishwarshastri Deekshit from Sangli (Maharashtra). Shri Shrivas Katkar is practicing a unique yogic tradition of Shreevidya-mahayoga. Since 40 years he is doing pravachana at his residance . He use to write many things on Shrividyamahayoga , poetic expression to his own spiritual experiences out of his sadhana and study , and about Shri Chidamabar Mahaswamiji. Also condusts yogic classes . All the time he use to teach the teachings of Shri Chidamabar Mahaswamiji and Shreevidyamahayoga , achieved such a position of sadguru that people of this area and desciples of him recognize as Gurudeva .
Many people, sanskrit scholors have done their P HD under his guidence and also doing the same presently. All devotees of Shri Chidamabar Mahaswamiji also respect him for his achievements not only at Sholapur but also at the neighbouring states. But Gurudeva (Sri Sir ) with a smile says "people just say like that " , no body is greater than Shri Chidamabar Mahaswamiji .Of course the supporting part of his wife Sau Sulakshana (Gurumata) must be mentioned . Who is well known as gurumata.
It is much difficult for me to write anything about Shri SadguruShrinivas Katkar , but with out whom this A B C of Shri Chidamabar Mahaswamiji is not possible ,with his kind guidence and blessings only I am learning to write alphabetes and showing to you.
The teachings of Shri Sir attracted many people like me .He treats equaly to all human beings irrespective of cast , religion , sex , color ,age and teaches the same and shows the way of light .
Like Shri Chidamabar Mahaswamiji he use to live his life mentaining the family ie grihastashrama with a son and daughter , having simple living and spiritual thinking with behavior .