Dindi of Mahaswamiji
---
Indriyani paranyahuhu indriyebhyah param manah |
manasastu para buddhihi yo buddhehe paratastu sah ||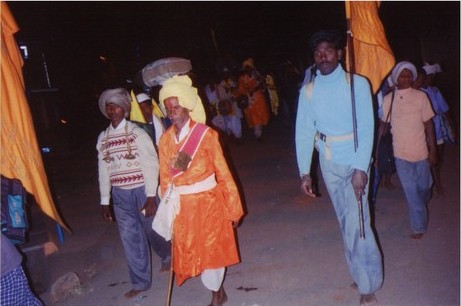 Dindi is started from nath panthi's the protocal of Dindi is staring with Macchindranath to Sapth Shing, Bhagnovaya, Chauranginath, Meenanath, Gorakhanath, Advayanand, Ghahininath, Nivruttinath, Dnyaneshwar, Siddheshwar, Baleshwar to Sant Rajaram .
During the time of Dnyaneshwar Maharaj the the days were very much dificult . As the working style of nath panthis in regards to salvation was beyond the reach to ordinery persons to behave or to perform .Due to very difficult restrictions . Particularly to familyholders ie grihastashram persons. So the same is converted with veda pramanya (keeping veda base in mind ) in to warakari pantha so as to reach the same with in the reach of evey one.
The word Dindi came from the word " Danda" means military, this military is of spiritual or you may say adhyatma to go by walk with enchanting the name of particular god or avatara Along with music like taal , mridunga , harmonium, veena, pataka ,etc are wepons of these people or you may say dancing even with joy of god . Its mainly based on the nama of god ie namasmarana or remembering the name of god .
The famous example of dindi is of Pandharpur in Maharashtra where on a auspicious occasions verious desiples of lord Vitthala visit by walk from there places of own or from i.e. Mauli from Dahu Anandi ,Gaganan Maharaj from Shegaon and many more . Similarly many Dindis from verious places in Karnataka ie Munavalli ,Chitradurga,Tumkur , Haaveri , Haavnoor,Shivamogga , Bellari Shingargoppa ,Gurlhosur ,Tadkod, Dodwad ,Kanavalli Shellikeri ,Shahapur , Belgaum , Guttali ,Yalagichcha ,Dharwar ,Chillor ,Badli ,Hurlikoppi ,Raychur are the main dindis and along with Vithabai dindi , Sheshachala Dindi ,Mrutyunjaya Dindi etc all travel to Muragod Like Tukaram Maharaj and Janabai the famous divoties of Vittala here exist Sant Rajaram , Sant Vithabai etc . As they belongs to Maharashtra they have started the Dindi of Shri Chidambar mahaswamiji known as Shri Chidambar Varakari Sampradaya. The same is continued by the son of the greate Saint Rajaram shri Chidambar prasad , Bhagirathibai ,Dattu dixit ,Malhar Dixit continude the same . Presently the leading role in this regad is continued by Shri Suresh Patil of Kanavalli.
&nbsp
The tips they are useing while dindi are as under :
keep Shri Chidambar Mahaswamiji paaduka in the right hand and garlend Tulsimala in the neck
Daily - after completing nityakarma prostrate before the paduka and the flag and them chant the name of Shri Chidambar Mahaswamiji or your mantropadesha given your sadguru.
Bhajana at night daily.
Read the gatha ie the holy book or autograph of Shri Chidambar Mahaswamiji.
Partcipate in dindi regularly.
Put on a hat or cap or pheta or any thing ypu like on head.
Fallow the tellings of Shri Chidambar Mahaswamiji.
Every year visit Gurlhosur on Kartik vadya panchami.
First visit Sant Rajaram Math then take Shri Chidambar Mahaswamiji paduka darshana.and make a pradakshina of it.
Then go to Shri Chidambar Mahaswamiji temple.
If possible try to take veena and CHANT it for a day.
YOU MUST ATTEND JANMOTSAVA.
On saptami ie on eext day of janmotsava do bhajana and keertana.And on astami next day kakadarati and gopal kaala.
If un avaidable circumstances came about participating Dindi , you must hand over your flag to your friends or some other person and send him for attending the dindi.