Akash Chidambar, The Holy Place
---
Chidambara namastestu chintitartha pradayine |
Audumbar sadavas Chidambar namostute ||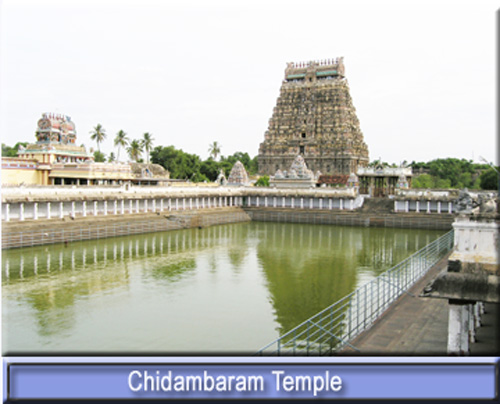 Shri Martand Dixit used to live at Muragod. Even after many years of his married life, Shri Martand Dixit was childless. This was constantly nagging his mind. He always searched for a solution to this. Once he went to Devar Hippargi to worship his family deity Sri Mallayya for this purpose and even conducted Gayatri Punascharana before the lord. After rigorous penance at the temple of Lord Mallaya, finally one day the lord did appear in his dream and asked Martand Dixit to go to a place called Aakash Chidambaram to worship Lord Nataraja to get his desire of having a son fulfilled. Akash Chidambar is 152 miles away from Madras (Chennai ).
Shri Martand Dixit and his wife went to Akash Chidambara . It is the holy place of Nataraja . Gods like Brahma, Vishnu, great rishis like Upamanyu, Kanva, Vyaghrapada and Patanjali etc came to meditate at such a great place. It is here the king Simhavarma (Prithvipathi) of Pallava dynasty got cured of his disease leprosy after bathing in Shivganga tirtha. (Holy Lake)
Shivganga teerth is very near to the main temple and is called Hemapushkarani (Patalaganga). At Akash Chidambar, Martand Dixit used to get up early in the morning at about 3.30 am (Brahma muhurata). After the completion of his bath at Shivasganga teertha and morning rituals like sandhya etc, he used to worship at the temple of Tandaveshwara. Thereafter he used to sit for meditation and Gayatri Punascharana. In the afternoon he again used to bathe in the same kund and perform ahnika while continuing to chant gayatri japa (incantation) throughout the day till nightfall. All through this time, he sustained himself only on bilva leaves and grass juice. This ordeal made his penance more powerful and effective. His wife also lived accordingly to help him on herbal liquid diet. He continued japa (incantation) until he fell asleep. This routine of his continued for several months.
Six months later, while Martantd Dixit was in deep meditation, Lord Shankara appeared before him and expressed his happiness over his unblemished tapasya and asked him about his most cherished wish. With Lord Shankara's hand on Martnad's head, the latter woke up from his meditation to his utter astonishment. He prostrated before the Lord and with folded hands stood stupefied. He spoke gently, "Oh lord when I got your darshana (revelation) what else shall I ask for?". Lord Shankar reminded Martand Dixit that he longed for a child and that he could read his mind. "If at all you wish to fulfill my wish to having a child, then I would want a son like you", Martand Dixit requested the Lord. Then Lord Shankara granted the boon as per the wish of Martand Dixit and said that He himself would take birth in his house and asked him to conclude his penance. So saying, Lord Shankara disappeared.
Martand Dixit's heart was overjoyed with the darshan of Lord Shankara with his boon. He completed Gayatri Punascharana and feasted the Brahmins thereafter. The Martand couple offered obeisance to Lord Shankara (Nataraja) and returned back to Murgod contented.
ARTHALINGAY NABHASE NAMO ANTA BAHIRATMANE I
NAMAH PUNYAY LOKAY AMUSHMAU BHOORIVARCHASE II