Madiwaalappa
---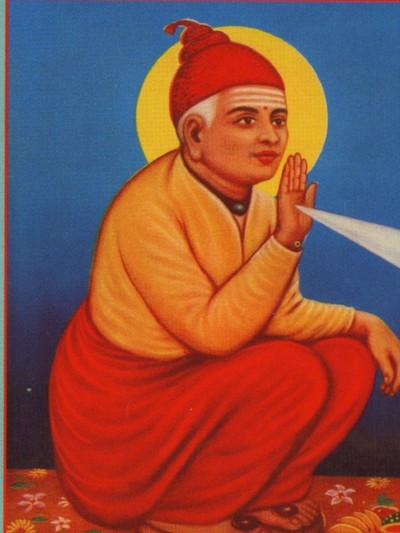 The next day, it was the auspicious period of Chaitra Shuddha Shashthi (Sixth moon) according to the Hindu calendar or almanac. After the routine chores Shri Chidambar Mahaswamiji arrived at the yagya mantapa. He had put on the white clothes and smeared his body the bhasma or ashes. There was ceremonial spectre or staff in his hand. He prostrated to the Yadnyeshwara (God of altar) and then went to the rutwijas or main Brahmin priests who were busy completing their assigned samkriyakarma (a ritual). Then the pravargya (a ritual) was started. After this the two brahmins arrived with swatadwarya gharms in their hands and poured into the holy fire as ajapa and a colourful fire was lit up. After this the rutwijas took the remaining garmayaga and were satisfied with it. By the twelve of that noon, Shri. Shankar Dixit paid tributes to all the brahmins and rutwijas with utmost respect and devotion. He prayed them to take prasada or ceremonial delicious food. After the meals every Brahmin was given some amount of money (Dakshina) a pack of betel leaves and nuts (tambool) as was the practice. About two hundred thousand people from the adjoining villages, soldiers, brahmins and those who were engaged in serving the prasada and other works were fed on the occasion.
In the mean time Shri Diwakar Dixit came to see Shri Chidambar Mahaswamiji. He was full of anxiety. It seemed as if some thing had gone wrong with him. With an expression of sense of guilt, he stood before Shri Chidambar Mahaswamiji, bowed in front of him. Shri Chidamar Mahaswamiji asked about the reason of his worry. Shri. Diwakar Dixit informed him about some bungling in the stocks of most of the food items. So he was worried and confused. Shri Chidambar Mahaswamiji reminded him that he had already told to not keep accounts, but still Diwakar had tried to keep accounts. At least, he should listen to engage Shri. Madiwalappa of Garag village to take care of store room. Shri Chidambar Mahaswamiji advised him to invite from Shri. Madiwalappa of Garag Village. This baffled Shri. Diwakar Dixit because he knew that Shri. Madiwalappa was blind and it would not be possible for him to look after the food grain store. However, with no alternative Shri. Diwakar Dixit obeyed the suggestion of Shri Chidambar Mahaswamiji started his journey towards the village Garag.
Here at the village Garag, Shri. Madiwalappa, his disciples and friends were talking about the yadnya and related activates happening at Gannagar. Shri. Madiwalappa used to fondly call Shri Chidambar Mahaswamiji as "Appa". His friends taunted Madiwalappa that though he had deep faith in Shri Chidambar Mahaswamiji and though he called him Appa, it was quite disappointing that his Appa has forgotten him to invite for the historic Somayaga. They kept wondering as to why Madiwalappa was not invited for the ceremony. He used to convince them his swamiji (Appa) would never forget him. As they were lost in this discussion, Shri. Diwakar Dixit and his colleagues came there riding on horses and elephants along with palanquin. Shri. Diwakar Dixit got down and prostrated at the feet of Madiwalappa. After exchanging courtesies, Diwakar Dixit conveyed to Madiwalappa, Shri Chidambar Mahaswamiji's invitation to Gonnagar. Madiwalappa's disciples and friends were highly impressed with great relationship between Madiwalappa and his Appa. Madiwalappa gladly accepted the invitation. He requested Mr. Diwakar Dixit and his entourage to proceed and told him that he would follow them soon. He also convinced him that he would not require either an elephant or a palanquin. Thus Mr. Dixit and his men returned to Gonnagar, but Shri. Madiwalappa reached the place through air before them.
On arrival at the place of Somayag, Shri. Madiwalappa met Shri Chidambar Mahaswamiji. He bowed before him in reverence and prayed to him to tell him the reason for remembering him on that particular occasion. Then Shri Chidambar Mahaswamiji asked him to take the charge of food grain store room. Shri. Madiwalappa was rather confused. He expressed his doubt that how he could discharge his duties? But at the same time showed his readiness if it was Shri Chidambar Mahaswamiji's wish. He also laid a condition that Shri Chidambar Mahaswamiji should personally show the store room and should show what things were kept where. Shri Chidambar Mahaswamiji agreed and took Shri. Madiwalappa to the store room and was showing him various food grains and other commodities kept in the room. All those things were transformed into imperishable (akshya) and eternal stocks. Such was the miraculous spiritual authority of Shri Chidambar Mahaswamiji. That is hoe accounting and watching of the store room or food grains have been simplified by Shri. Madiwalappa.
The Kittur sansthan (the princely state of Kittur) had profound faith in Shri. Madiwalappa's spiritual prowess. They continued to repose their faith in his disciple Shri. Sidhdharudh swami.
In the evening, various rite related to the evening prayers such as, the sayam pravarghya, sandhya were accomplished. The devotees had thronged near the dais and they touched his feet out of sheer reverence and devotion and sought his blessings. At a little distance from the podium, the priests were reciting the verses from the holy scriptures (the puranas). Some of them were busy delivering sermons (pravachanas) to the congregation of the devotees. They were also chanting the Vedic hymns in that calm and quite atmosphere.
Shri Chidamar Mahaswamiji drank just a glass full of milk before going to bed..