His Wedding Ceremony
---
Dehi nityamavadhyoyam dehe sarvasya bharat |
tasmat sarvaani bhutaani na tvam shochitumaharsi ||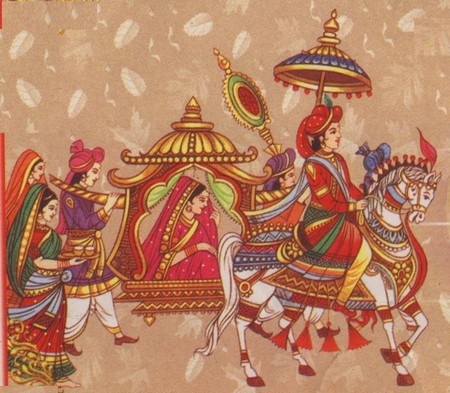 When Chidambara grew up to become a young man of marriageable age, his father Sri Martand Dixit thought of getting his son married to a good girl. He discussed his wish with his son Chidambara, who knew that it would be fulfilled within a short time. He agreed to his father's wish. In a few days then, one Mr. Lingopant from a village called Madhalli (now Matolli)from Savdatti taluk happened to visit Sri Martand Dixit. In the course of their discussions, Lingopant informed Sri Martand Dixit that he had a daughter, Saraswati, for whom he was seeking a good matrimonial alliance. In fact, while discussing, he wanted to establish a relationship with the Dixit family and expressed his wish to fix Saraswati's marriage with Chidambara. After receiving the offer, Sri Martand Dixit replied saying that he would convey his decision shortly. A few days later, after hearing from Chidambara, Sri Martand Dixit expressed his assent to Lingopant for the alliance. The betrothal took place shortly as per Hindu tradition and the auspicious date for the marriage was decided.
Friends and relatives from both the families were invited for the marriage which took place at Madolli. This was in the year 1765, (Shake 1697, as per Hindu calendar) that Chidambara's marriage to Saraswati was solemnisd among pompous rejoicement. Even the Gods from the heavens appeared disguised as Brahmins in the white dress to witness the marriage. The bridegroom, who came in a palanquin was received by the by the bride's father, Lingopant with offering of "madhupaak"(a sweet). The bride was beautifully dressed in an "ashtaputri" ( the ceremonial bridal dress). As the auspicious moment of muharata came, all those present in the marriage hall bestowed their blessings on the young couple by showering ashtakas (sanctified food grains symbolising prosperity) during the recital of the "mangalashtaka" (wedding song). Even the Gods in the heaven, including Brahma and Vishnu, showered flowers and ashtakas as it was the marriage of Lord Shiva and Parvati. The marriage ceremony lasted for four days after which every one returned to their homes with memories of the happy event. The Dixits also returned home happily with their newly-weds. The wedding of the younger son of Sri Martand Dixit, Shri Prabhakar took place after some days.
One day, a family friend of the Sri Martand Dixit who was an astrologer visited their house. After dinner, while reading Chidambara's hand, the palmist predicted that he was destined to have a second wife. Sri Martand Dixit had no doubt about the palmist as he was a learned person and told Chidambara that his predictions never went wrong. But Sri Martand Dixit very well knew that Chidambara was no else than Lord Shiva having two wives i.e. Parvati and Ganga. The astrologer left the next morning.
There lived a Brahmin named Manigiri in a village called Shellikeri (now in Bagalkot district of Karnataka) who had a wife named Krishnabai. They had a son who was a great devotee of Lord Shiva and was married to Sou Tungabai. It is with the grace of Lord Shankara that they bore a child who was later named Bistappa. Bistappa became an influential person in later years and came to be known as Bistangauda (headman Bistappa). Bistanagauda tied knot with Sakharbai. They had a beautiful daughter named Savitri. When Savitri became a teenager, Bistanagauda visited an astrologer to know her future. After reading the horoscope of Kum Savitri, the astrologer assured Bistanagauda that his daughter Savitri would get married to Lord Shankara, a divine boon which could be realised only after several births. Bistanagauda felt happy and the astrologer even suggested the name of Shri Chidambara.
One day, Bistanagauda came to meet Sri Chidambara who knew well, the reason of his visit. Upon enquiry, Bistanagauda told that he was a devotee of Lord Shiva. He also told that he had a beautiful daughter named Savitri. He said that his guru had sent him to meet Chidambara and request him to marry his daughter, Savitri. Sri Chidambara glanced at his father upon hearing Bistanagauda's offer and Sri Martand Dixit who was listening to all the conversation gave the nod. Sri Martand Dixit settled rest of the things and the marriage took place at Shellekeri. Sri Chidambara, like Lord Shiva with Parvati and Ganga, lived happily.
Later on, Sou Saraswati gave birth to Shri Diwakar, Shri. Shankar, Shri Mrutyunjaya and Shri Bapu while Shri Kashinath, Shri Bhaskar and Kum.Laxmi were children of Sou Savitri.